Decorate Your Pad
There were at least a couple of occasions, both in the States and in Morocco, where I had apartments with sort of dull paint on the walls. I wasn't sure if I wanted to make the commitment to new paint, stencils seemed too "yesterday," and more than five wall hangings/photographs was plenty. As for my in-laws, and indeed, many of the inhabitants of homes I've visited in the South, they have a unique idea of how things should be hung on the wall. Yes, I'm a horrible snob, but photos in some kind of tic-tac-toe pattern plus plastic flowers in a fake brass wall sconce give me the heebies.
I now have the solution: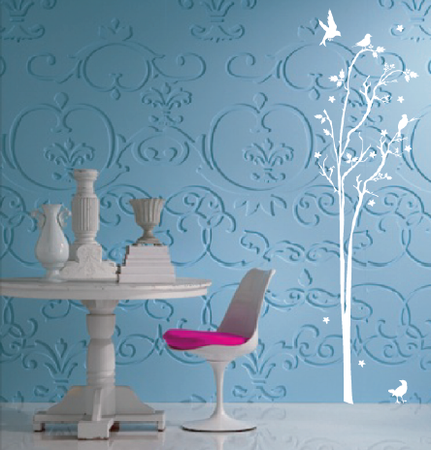 That lovely white tree is a wall sticker from Sofia Antonovich – it's designed for Christmas, but wouldn't it be lovely in a solarium or kid's bedroom?
I also like "Iron Vines" from Blik.
What's great about these is if you had a packet, you could show them to a local Moroccan artist, and he could duplicate them if you wanted to "go permanent."